The annual Conway Knights of Columbus Fall Fest Fundraiser will be held at the Knights of Columbus building this year on Sunday, October 9th.
Food will be served from 11:00 am until 1:45 pm.  There will be games and activities for the kids, a silent auction, bingo and a raffle for a new muzzleloader!
On the menu:
Turkey
Dressing
Green Beans
Mashed Potatoes & Gravy
Homemade Sausage
Sauerkraut
Rolls
Dessert
And new this year – we will be serving chicken strips and grilled cheese for the youngsters!
Prices are:
Ages 13 & up – $12
Ages 7 to 12 – $6
Ages 6 & under eat FREE!
"Take-outs" also available for $10
Net proceeds from this event will be used to support our Seminarians so please come out and join us!
We are still looking for silent auction items.  Homemade items are great!  Some ideas are jams & jellies, cakes, wooden bird houses, homemade wine racks, anything "artsy".  Items can be dropped off at the St. Joseph Endowment office during the week, up until 3:00 pm Friday, Oct 7th.  After that, items can be brought to the KC building on Saturday, Oct 8th from noon until 3:45 pm.  We will also be taking items up until 10:00 am on the day of the event.
We are also looking for help before, during and after the event.  We have a sign-up page where you can visit and see what areas we need help in.  Just click this link and see what is available.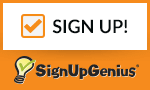 Thank you very much for your support!